DESCRIPTION
DEPARTMENTS OF PERU
HOW TO ARRIVE PERU
DESCRIPTION
In general, Peru is organized into three social classes. The upper class is a minority and principally found in Lima – they consist of approximately 3% of the total population. The middle class consists of the workers and professionals that depend on a salary and job –form about 60% of the population and have suffered most under the successive crisis's of recent years. The lower class is formed by the workers and the campesinos (the rural people/farmers of the country).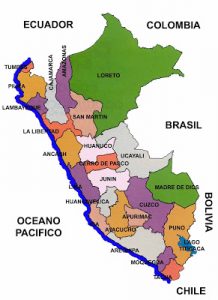 The workers have been based in the cities, especially in what are called the "pueblos jovenes" – or shanty towns – and many were campesinos that emigrated from their community to a urban centre. The campesinos who stay in the Andean communities are those that place more importance on their culture and the Inca religion. In the south of Peru they are bilingual or speak Quechua monolingually. In the north, the native languages have totally disappeared. The jungle is relatively untouched where the many tribes and communities that remain have had little contact with the outside world.
The Education system has been a challenge for all governments. In recent years, a gradual reform has been looking for education that fulfills the real needs of the country and forms agents of change. Constructivism and Significant Learning are the new approaches that the Ministry of Education and the University faculties are using to train their teachers. Perum
The Ministry of Health directs the Social Security system to thousands of Peruvians who attend the diverse hospitals of the State. Equally, the Retirement System permits thousands of dismissed workers to receive a small monthly pension. There are also private pension funds (AFP) that offer retirement packages that are won through a free competition.
Country Name: Republic of Peru
Area: 1 285 215 sq Km
Population: 28.000.000.
Capital: Lima (8.000.000 hab.)
Location: Western South America, bordering the South Pacific Ocean, between
Chile and Ecuador
Languages: Spanish (official), Quechua (official), Aymara, and a large number of minor Amazonian languages.
Religion: Roman Catholic 81%, Seventh Day Adventist 1.4%, other Christian 0.7%, other 0.6%, unspecified or none 16.3%.
DEPARTMENTS OF PERU
HOW TO ARRIVE PERU